and I can honestly say I am the best teacher my son's ever had! Pftthhttt!
So seriously. We started Kindergarten last Wednesday and I want to post a review while it's fresh.
We dig
Winter Promise
. It's all
laid out
for you so nicely, read this, do that, try this. Add this if you feel like it, choose from these crafts and projects. It's really versatile, very engaging, and the books are fanTAStic!
The phonics review is very easy for Bug at this point, but I think that's a good thing. He's feeling confident and capable, and is excited about "doing school" every day. We're doing some fun games with phonics cards, and he especially enjoyed being blindfolded and having to pick the right letter from a bowl just by my saying the sound the letter makes.
The most challenging aspect of the LA part of our day is handwriting, but I only insist on one page a day, usually 4 or 5 letters, repeated 10-12 times.
I am thrilled with the
Animals Encyclopedia by DK
. Both Bug and Monkey will pull this out and look at it for hours. We read a few pages a day, and they won't let me get away with skipping a word, they both love to hear all about habitats, homes, bodies...
I am not as pleased with the selection of
Socks
as the first read aloud chapter book. The first day, I had to omit/change the words "stupid" and "idiot". We don't use either of those words, and I didn't want my sons hearing it in a story, even if the character was a grumpy big brother. It was easy enough to change to "silly" and "not nice", but it did bug me.
I am very pleased, however, with the
Big Book of 5-minute Devotions.
The kids really seem to enjoy the pictures and the lessons are short and easy to understand. We've had some good talks later on in the day referring to our devotions, too.
Our school day usually starts around 9:30 or 10, with devotion, prayer, and the pledge. Then we work through our read alouds for the day since we're already all piled onto the futon. After that, we move into phonics and language arts, usually ending with a craft or game.
We have a snack and I usually lay Chickie down for a nap by this time, and then we come back to work on Math -
Math U See
Primer. We watch the video if need be and then do three workbook pages a day. Math is coming very easily to Bug at this point, but again, I'm happy that he's feeling very confident. We'll step it up if he needs to move through a little faster to be challenged.
After Math I let him move on to doing his
GeoSafari Phonics
Pad, I save this even though it's part of his LA program, because he absolutely loves it, and would play it for hours if I let him. Three days a week he does Spanish with the
Hooked On Spanish
program from HOP.
Our total "school" time daily is about an hour to an hour and a half, depending on how deep his questions go and how much time he wants to spend on various activities. He will spend time on his own working on the phonics pad and playing with his MUS manipulatives.
On Tuesday mornings we go to an open gym tumbling class, and on Wednesdays we go to the library for family story time. We're also considering a homeschool PE class during the week.
~~~~~~~~~~~~~~~~~~~~~~~~~~~~~~~~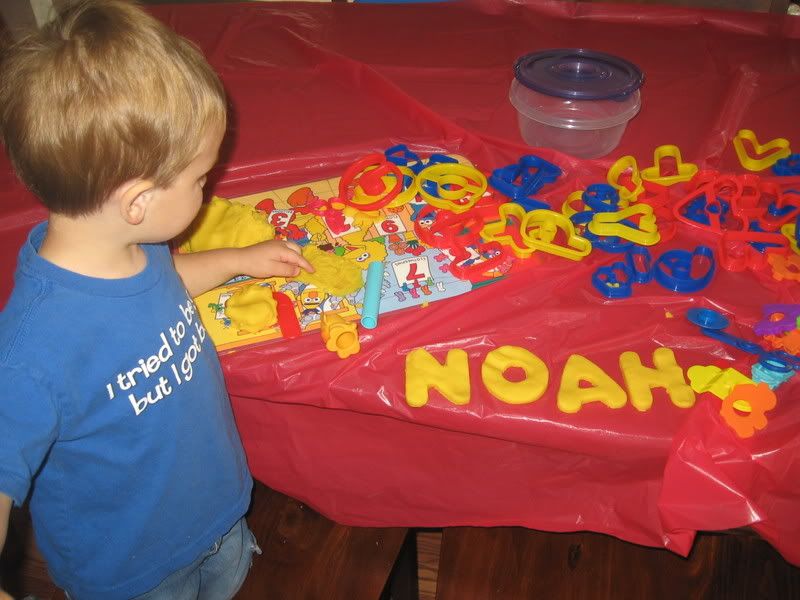 Today we made play dough, yellow at Bug's request.
We haven't had fresh dough in a few months, so the boys were pretty jazzed and played with it for about an hour.

Fresh pizzas were made, along with cut out letter names and a few weapons.
Here are some pictures of our not-yet-completed schoolroom. I have The Papa working on some
rain gutter bookshelves
for the wall behind this storage bench. This works well for now, but I want to have the books more accessable for the kids.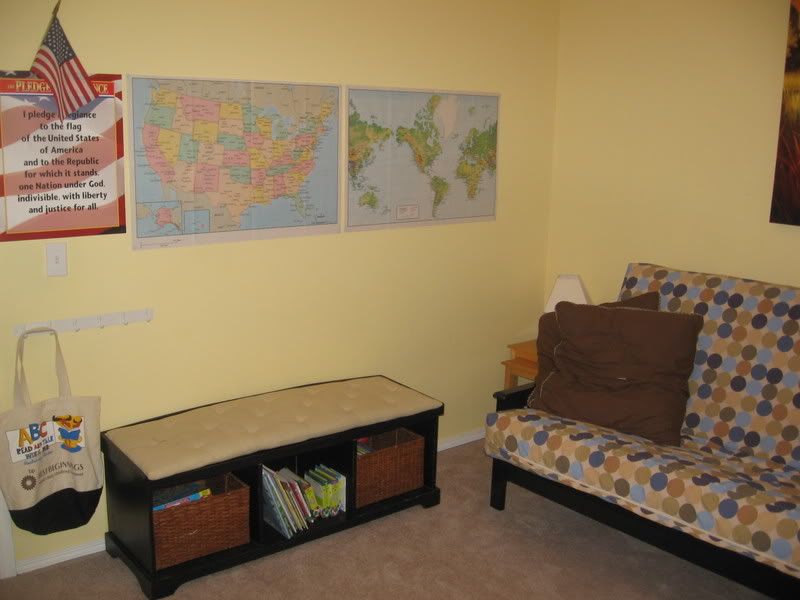 Here's where we do all of our read-alouds, pray, do our devotional, listen to music, watch DVD's on occasion... where I nurse Chickie, etc.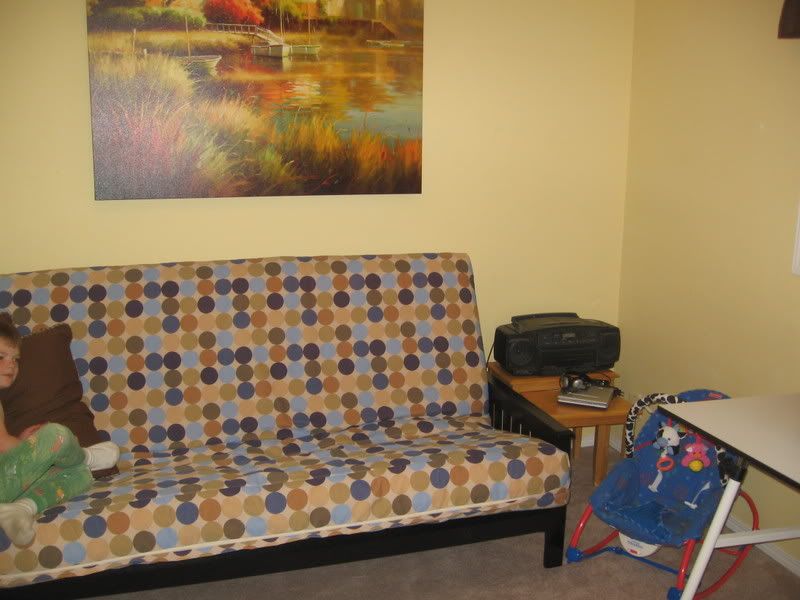 The worktable and craft caddy.
Computer desk, craft supplies on the shelf above.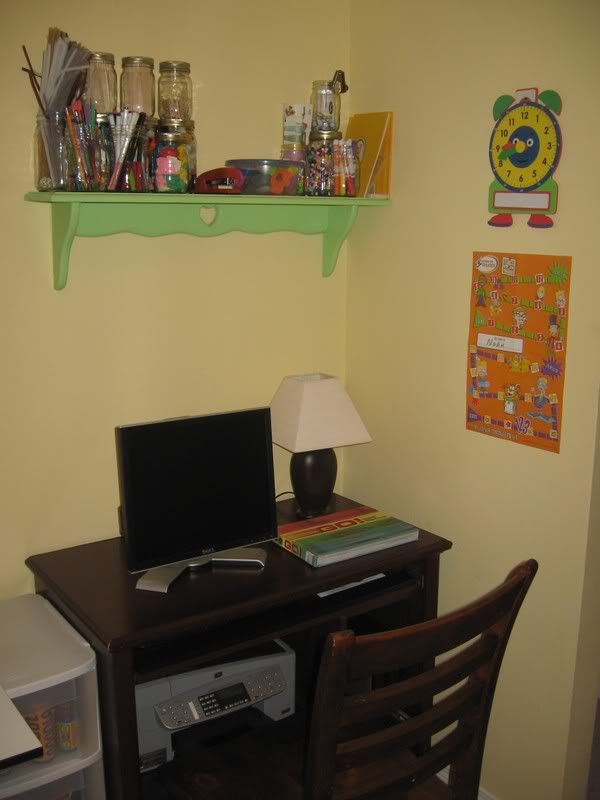 Closet with shelving, more craft supplies, paper, etc... Games are in the top of the closet where mama can control them. This works for now, but I want a closet organizer system eventually. Monkey uses the easel while Bug works at the table most days.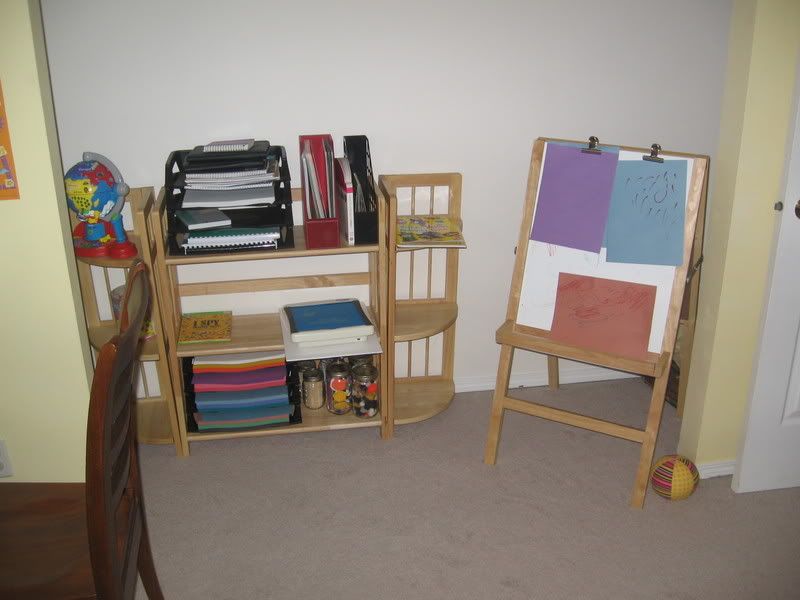 So that's it. I have never felt more confident with our decision to homeschool. And Bug is thriving and excited for each new "school" day. (I always want to say "school", since this feels so much like a continuation of our life, not like something forced or strange... if that makes any sense.)